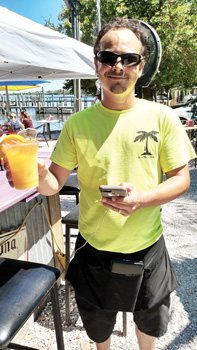 SUN
James Roberts displays the new Pokémon Punch
cocktail being served at The Bridge Tender Inn
& Dockside Bar.
BRADENTON BEACH – The Pokémon GO virtual gaming craze is a big hit on the Island.
Pokémon GO is the latest offshoot of the Nintendo Game Boy video game that became popular in the late 1980s and early 1990s. The newest incarnation also plays off the nostalgia many folks feel for the beloved Pokémon card game they played as kids.
A hike down Bridge Street in Bradenton Beach last Friday afternoon with cell phone in hand revealed virtual PokeStops at the Tingley Memorial Library, the post office, Oma's Pizza and the Moose Lodge, but the hottest spot was near the Bridge Tender Inn.
Using GPS mapping, the game developers determine where PokéStops and other elements are located. These often coincide with historical sites, points of public interest and areas that feature public art.
In addition to being populated by several members of the Pokémon species, the area between The Bridge Tender Inn's Dockside Bar and the nearby roundabout also boasted a virtual gym that allows players to engage in battle and hone their skills.
Luck and effort
According to server James Roberts, the heightened activity was a result of luck and some additional effort he put forth.
"We were lucky enough to have a PokéStop and a gym," he said, noting that the mural at the south end of the property was probably the impetus for the PokéStop.
Roberts capitalized on that luck by suggesting management purchase a four-hour lure for $10 that sends out a signal that attracts players.
"Some spots are luckier than others, and we are taking advantage of it. We've got a special drink called the Pokémon Punch that's made of rum, orange juice, pineapple juice and a dark rum floater, and we're probably going to host some parties," he said, noting that business had been brisk all afternoon.
"We are going to be running these lures as much as possible. This is a nice safe place for parents to bring their kids, and we have a lot of rare Pokémon," Roberts said.
Accompanied by her mother and a young friend, 14-year old Kristen Curtis was among those lured to the Bridge Tender property.
"I found a Goldeen, a Ponyta and a Magikarp," Curtis said. "It's really fun, and it's something to get you out of the house."
A walk on the Historic Bridge Street Pier resulted in the capture of a flying dragon-like creature known as a Scyther and a few other creatures.
Over at city hall, Deputy Clerk and Pokémon enthusiast Marie Montoya said she was wondering what the nearby lure was that she noticed during her lunch break. Montoya said she loves Pokémon and she has a Pokémon character tattooed on her left arm to prove it.
Her co-worker, Karen Aiken-Smoot said she plays with her young son.
"It's a fun way to be with him, and the whole thing is you have to be mobile," Smoot said.
At Island Time, bartender Delanie Herlihy was mixing up a Pokémon-themed Pikachu Punch.
"It's like an electric lemonade, which is perfect because he's an electric creature," she said.
Instead of a paid lure, Herlihy was attracting gamers with free virtual incense that attracts Pokémon creatures.
"We have three PokéStops near here, and we've had a ton of people at the bar playing today. It's been awesome. I probably rode my bike 25 miles in the past few days doing it. I was six or seven when it first came out, and I still have all my cards. I like that it gets me out of the house and takes me to places I wouldn't normally go. I went to Marina Jack's in Sarasota yesterday, and I wouldn't normally do that," she said.
The north end of the Island was less active, but PokéStops stops were found along Pine Avenue at the Roser Community Church, the School for Constructive Play and the post office, with gyms discovered near the Anna Maria Island Historical Society Museum and at the end of the city pier.
Beyond the Island
On Saturday, Montoya traveled to Busch Gardens in Tampa for a massive Pokémon event that was temporarily stymied by a world-wide crash of the Pokémon servers that a hacking group called PoodleGroup claimed responsibility for. When the servers came back online, Montoya's patience was rewarded with the capture of a massive Scyther worth more than 700 points.
The fun and games are not without concerns and criticism. Nationwide there have been incidents involving entranced players being struck by cars, and there have been reports of players being lured to locations that resulted in robberies. And some critics simply question the need for an activity that provides another reason for people to bury their faces in their phones.