Vol. 16 No. 45 - September 7, 2016
FEATURE
Mar Vista renovations begin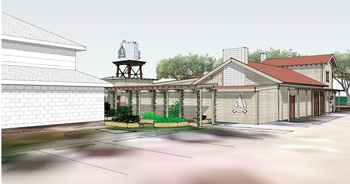 submitted
An artist's rendering shows the proposed remodel of Mar Vista.
LONGBOAT KEY – The historic Mar Vista Dockside Restaurant and Pub will remain open while a new kitchen is installed.
The state-of-the-art kitchen is expected to be completed within four to five months, according to Chiles Group Culinary Director Erik Walker.
"Food is our top priority," Walker said. "We are really excited about the additional offerings we can provide to our guests, like chef's tasting menus showcasing many of the sustainable seafood projects we are a part of as well as the produce and herbs from our farm, Gamble Creek."
Despite the construction, the restaurant will remain open with outside seating available on the covered deck or under the canopy of the buttonwood trees. The inside will not be available for seating while the project is underway. Guests are encouraged to come in to track the progress and take in the long-term vision for the restaurant.
"The plans for Mar Vista are designed to preserve the past and enrich the future, while adding some new exciting features," Chiles Restaurant Group owner Ed Chiles said. "The remodel will strive to retain the original integrity of the Old Florida feel that is such an important part of Mar Vista's classic Longboat Key location."
With old crab pots as wine displays, vintage photographs as wall coverings and a copper bar top reminiscent of the original Mar Vista bar, the newly designed restaurant by the Schimberg Group also incorporates updated features like a functional water tower for growing on-site herbs and vegetables, vintage wood and porcelain tile, a working outdoor fireplace for cooler nights on the deck and a newly-designed dining area with tiered banquet seating.
Mar Vista renovations will come to a brief halt after completion of the kitchen remodel, timed for the rush of season, before construction resumes on its new dining room in May.
Call 941-383-2391 with questions about seating.