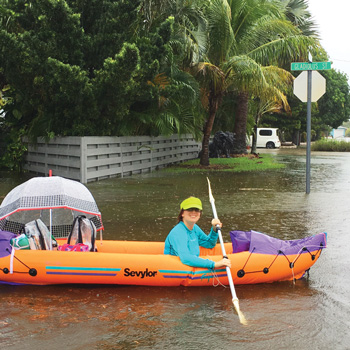 JOE HENDRICKS | SUN
Roselyn Ward, of Anna Maria, kayaks home Wednesday
because her school bus had to let her off short of her house.
ANNA MARIA ISLAND – The first hurricane to hit Florida in a decade began as a tropical disturbance that passed over the Island last week, leaving flooded homes, flooded streets, downed trees and sunken boats in its wake.
The tropical disturbance entered the Gulf of Mexico as a disorganized bunch of storm clouds Wednesday. As it formed, the moisture in the air around it developed into rainstorms causing problems for the flood prone streets and yards on the Island and in Cortez.
The city of Holmes Beach put up signs at low-lying streets, with parts of Marina Drive near Holmes Beach City Hall, the Island Branch Library and Wells Fargo Bank having water so deep it forced motorists to proceed at little more than idle speed.
One of the canals that ends at Marina Drive overflowed, but there was no damage. The roof of the laundromat at the Holmes Beach Shopping Center was damaged, and a tree fell down in the front yard of a home on 83rd Street, according to Holmes Beach Police Chief Bill Tokajer.
"We were blessed compared with the cities in the path of the hurricane," Tokajer said.
Thursday morning saw more rain, but there were patches of calm until the storm tracked north and the winds picked up again. Thursday night saw tropical squalls, but the amount of rain was less than before, allowing some of the saturated areas to drain.
Holmes Beach
On Friday morning, Tokajer appeared on television asking non-essential visitors to stay away from the Island until the flooding receded.
On Saturday, he said, "We had a considerable amount of streets flooded. Our worst day was Wednesday, and Thursday we had some flooding as well. Friday is when it started to really subside and everything was passable."
He estimated the water to be at least two feet deep on Marina Drive, near city hall, at various times on Wednesday and Thursday.
After noting that he received no reports of storm-related injuries, Tokajer said, "We had a tree down off of 83rd (Street) and Marina Drive and then we had some damage to the roof of the laundromat in the Holmes Plaza. Other than that, we had some minor damage. There were some roofs that were damaged, but overall as a community we were truly blessed."
Anna Maria
The street flooding was heavy enough in the city of Anna Maria on Friday morning to cause Mayor Dan Murphy and Sgt. Russell Schnering to limit access to the city to residents, vacation rental guests and essential personnel, with Sheriff's deputies determining who came in.
"After we stopped some of the cars driving too fast through the water, we found out many of them didn't need to be here," Schneering said. "They were just looking."
"We were trying to discourage sightseers, and we were successful at that. Things look better now. We still have some significant flooding on the north end, around Fern, Jacaranda, North Shore and North Bay," Murphy said on Saturday.
Some residents reported water flooding into their homes and on Friday Murphy authorized the leasing of five trailer-style pumps at a cost of $3,500.
"We are pumping still, but expect things to be back to normal by tomorrow," he said Saturday morning.
"Our public works people did a fantastic job of responding during this storm crisis. We received many compliments from residents. They are a credit to our city, and I'm very proud of them. We also need to thank The Center and Crosspointe Fellowship for stepping up and offering shelter to any victims who had flooding in their homes," he added.
By Sunday morning, it was all blue skies and sunshine on the Island, and Labor Day weekend was starting to kick off.
Cortez
Docked in front of the Seafood Shack in Cortez, the historic schooner San Francesco was among the storm's earliest casualties. By Thursday morning, the 66-foot wooden schooner was sitting on the bottom of the bay mostly submerged, and she was still in that condition Sunday morning.
Bradenton Beach
Street flooding was prevalent in Bradenton Beach along Gulf Drive, in the avenues at the north end of the city, along Highland Avenue and on Bridge Street.
On Thursday, a sailboat broke loose from the anchorage and struck the Historic Bridge Street Pier doing some damage to the decking. Police Chief Sam Speciale said the vessel was later tied to the protective dolphin pilings at the east end of the pier, and he is going to request additional dolphin pilings be installed.
The Planning and Zoning Board was able to conduct their meeting Wednesday afternoon, but Thursday's City Commission meeting was cancelled; as was Thursday's County Commission's land use meeting. Manatee County schools were closed Thursday and Friday and the free Island Trolley system was out of service Friday due to widespread street flooding.
Some residents' yards and streets were so flooded that they were stuck at home for a couple days. By Thursday afternoon, Mike Cunningham's yard on Bay Drive looked like an extension of the bay, with the waves continuing past the shoreline and into his yard.
Things had improved significantly by mid-day Friday.
"They're delivering the mail and it's pretty much business as usual," Speciale said, reporting no known injuries or significant storm damage.
The Bridge Street business district was lively Friday night, offering folks a chance to get out after being cooped up for a few days.
The storm pushed through Georgia and as it left Florida, it served as a reminder that those quiet hurricane seasons we enjoyed recently could be things of the past.