You ain't nothing but a houndfish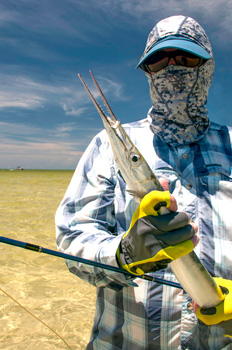 rUSTY CHINNIS | SUn

Steve Traves holds a fighting sized houndfish
that attacked his white bait fish fly.
The first run caught me off guard as line disappeared from my reel in a shower of spray, rooster tailing across the flat. After going over 50 yards into my backing, the houndfish danced across the surface in a series of spectacular leaps. I gained backing until I had my fly line in sight, only to have it disappear again as the aerialist ripped off another 20 yards of backing, making numerous jumps. It took me another 10 minutes to land and release the houndfish, giving me an unexpected appreciation of this underutilized species.
I was being introduced to this spectacular action by Steve Traves, of Anna Maria Outfitters. He had spotted a platoon of them a few weeks before and had some great action while wading. He was impressed with their aggressive nature, attracting and catching them on flies. At first I dismissed his enthusiasm when he excitedly told me he had found a new target. That all changed when that spirited opponent took my fly. On his first trips, the houndfish wouldn't commit to his flies, but eventually he discovered that tide stage was key. On his last trip, a hard outgoing tide had turned them on, providing numerous hook-ups.
Two weeks later, the tide was the same, and we returned to another hard outgoing tide. The water had been falling for an hour when we reached the shallow flat at the mouth of Tampa Bay. As the tide continued to fall, the water became a dark tannic hue and patches of weeds started flowing over the flat. At first we were concerned that the conditions would threaten the sight fishing. Fortunately, after the rafts of weeds had passed, the water, although still dark, began to clear, revealing large schools of the narrow bodied hounds.
After experimenting with a number of flies, Traves found that a small white baitfish fly was the best pattern to elicit a strike. We each tied one on, and the houndfish responded. In a little over two hours, we landed and released numerous fish. The smaller fish didn't have the stamina of the large ones, which we targeted when possible. We both used eight-weight outfits with 10- to 12-foot tapered leaders and 30-pound bite tippet. The hounds schooled in very shallow water and responded best to a fast strip. While houndfish won't go down as many people's favorite species, they definitely provide great action. When they're on the feed, they can be found in large numbers that rush a fly and hit it with abandon. They are now on my list of fish to target on the fly, although I'm sure they would be good sport on a small spoon and spinning tackle. Give these unusual fish a try. You won't be disappointed.