Vol. 16 No. 46 - September 14, 2016

FEATURE
Creation of a craft bar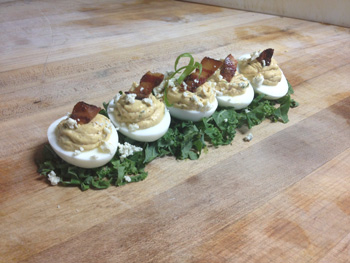 The Waterfront puts a new spin on an American classic: deviled eggs.
submitted
I started working here at The Waterfront restaurant way back in 2000 when it was owned by an English couple. I opened each day, working the day shift until four or so, when we were allowed to slip in the back room and have a cold draft beer after a hot day in the kitchen. It didn't matter which one we picked since a Budweiser or Miller Lite tasted about the same. When the Suzors bought the restaurant in 2002, I remember that one of the first changes they made was to upgrade their draft beer choices, and I became a fan of Stella Artois. Now back then you rarely saw TV ads for imported beers, and the craft beer rage was just beginning. Some of the staff thought the change a wee bit crazy but fortunately, Jason had the idea of being a bit different than the other restaurants on the Island, and opted to offer more variety and more styles of beer than them. When we had the fire in 2004 we were able to redesign the restaurant to be able to chill up to ten kegs. It was decided that we would have all imports and several of the new, domestic "craft" beers that were starting to spring up all over the country on tap. In doing so, we could offer all those different styles of beer, each one being served in its own specific glass. We added more of these "craft" lagers and ales by the bottle along with our domestic selections. Our bar was starting to take shape.
The next decision was wines. We originally planned on offering a house wine by the glass or carafe, offering a few white and a few red varietals from the same winemaker. After some thought however, we decided to offer certain wines by the glass from our roughly 100-bottle wine list as well as by the bottle. This decision gave us the freedom to pick better wines for glass pours as opposed to "jug" wines like so many other restaurants offered. This also allowed us the option of offering more than one tier for certain varietals. We added in daily wine specials, selecting additional wines to pair with our dinner specials each day. Step two of our new bar was complete. We reopened in September of 2004, and with all of the new, unusual offerings the bar was a hit, but something was still missing. There was only one restaurant that offered a full service bar at this time in Anna Maria; nowhere else in the city were you able to enjoy a mixed drink with dinner. The Waterfront wouldn't be complete until we could offer mixed drinks. That, however, was easier said than done. The requirements for acquiring a full liquor license were demanding, and the city had to give its approval before the restaurant could even apply with the state. After a great deal of work, the restaurant finally got approved by the city. The restaurant then applied for its state liquor license, and we finally got it in September of 2013. Now the job of redesigning the bar in order to accommodate all of the equipment and the supplies necessary to be a full-fledged bar would begin. The decision was made to shut down the restaurant for renovations with a projected reopening ten days later. Now the real hard work began, deciding which liquors, mixers and liqueurs would be necessary to make the cocktails that would make us a truly unique bar.
So now we have the next question: Which cocktails are we going to make in order to achieve our goal?
That, my friends, was the pressing question. So, until next time...
Bacon & Bleu Deviled Eggs
By Chef Hibberts
Ingredients:
8 hard boiled eggs
4 slices bacon, cooked and crumbled
1 shallot, minced
2 green onions, minced
¼ c. bleu cheese
¼ c. mayonnaise
2 TBS. Dijon mustard
1 dash Worcestershire
1 dash of your favorite hot sauce
Directions:
Cut eggs in half lengthways and remove egg yolk. With a fork crumble egg yolk into a powder. Mix ingredients together leaving a few bacon crumbles and scallions behind for garnishing later. Using a piping bag or a Ziploc storage bag, pipe filling into the egg halves. Garnish and enjoy.