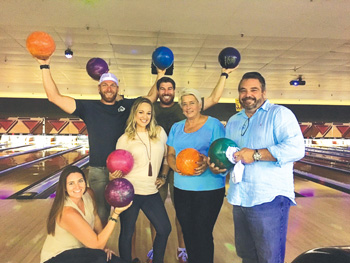 monica simpson | SUbmitted
Members of the Salon Salon team had a "ball" bowling
in the LaPensee Challenge Saturday. More on Page 16.
Organizers of the LaPensee Plumbing Bowling Challenge had a good problem before the event - they hadn't reserved enough alleys for the bowlers. In fact, they ended up with a total of 40 lanes and approximately 150 bowlers competing for high game, high series or low game, low series trophies, as they made money for The Center.
There were raffles too – a 50/50 drawing; a Chinese drawing where ticket holders put tickets next to the prize baskets they wanted; and a separate drawing for a Yeti bag loaded with liquid refreshments that only a person 21 years or older would be allowed to enjoy.
AMF Lanes provided a buffet spread that features pizzas and crispy wings with a choice of dips.
Organizer Lindsay Saul brought her daughter, Livia, who helped sign in the entries.
Sponsors Karen and Mike LaPensee were pleased to see the turnout and the spirit shown by the bowlers.
Center Director Kristen Lessig expressed thanks to the sponsors and the bowlers for their generosity.