Vol. 17 No. 5 - November 16, 2016
FEATURE
ArtsHop comes to Bridge Street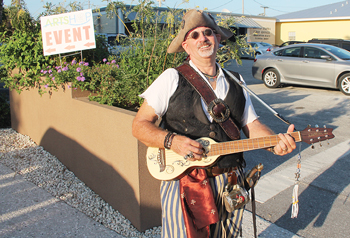 TOM VAUGHT | SUN
Larry Wilhelm, dressed in his pirate's outfit, strolled up and
down Bridge Street singing island songs.
There were artists of all types on Bridge Street to celebrate artsHOP last Sunday.
Crowds explored the art, sampled food and liquid refreshments and enjoyed the music as part of the Island-wide ArtsHop celebration.
As part of the art, merchants on Bridge Street are hosting a program where people can purchase cutout designs of mermaids for $40, to decorate. If they enter a judged contest later, they will get their $30 back and half of what their work sells for at a silent auction in January.
The mermaid cutouts may be purchased at Bridge Street Interiors. Call Amanda Escobio at SeaRenity Beach Spa and Eco Boutique, 941-896-2222 or email her at Amanda@searenityspa.com.