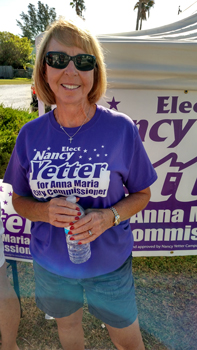 joe hendricks | SUN
Nancy Yetter spent most of Election Day
across the street from Roser Memorial
Community Church, the city's only
polling location.
ANNA MARIA – It took a couple extra days for final results to be known, but when the dust settled on last week's city elections incumbent City Commissioner Nancy Yetter was reelected to a third term and Brian Seymour was elected to his first.
The odd man out was multi-term Commissioner Chuck Webb, who finished third in a three-way race made more memorable by his last-minute filing of a challenge to the eligibility of more than 80 city voters.
Along with commissioners Carol Carter, Doug Copeland and Dale Woodland, Yetter and Seymour will spend the next two years providing legislative direction to non-voting Mayor Dan Murphy, who ran unopposed and will serve a second two-year term as the city of Anna Maria's highest ranking official.
When the final numbers were released Thursday night after the canvassing board reviewed the provisional ballots necessitated by Webb's challenge, Seymour was the top vote-getter with 494 votes and 35.85 percent of the vote. Finishing a close second, Yetter received 493 votes and 35.78 percent of the vote. Webb's long run as a city commissioner ended with 391 votes and 28.37 percent of the vote.
When the polls closed Tuesday night, Yetter had 486 votes, Seymour had 475 and Webb had 385.
Winners react
"I am very grateful to the residents of Anna Maria for reelecting me to serve a third term as city commissioner. To my campaign workers, thank you for all your dedication and hard work, especially my husband, Mike. You helped make the campaign fun and successful," Yetter said on Friday.
"Some of the issues I want to help solve during my next term include completion of the City Pier Park, solving the drainage issues facing our residents and parking and traffic congestion solutions. I look forward to this opportunity, and I welcome any and all suggestions on how we can enhance life in Anna Maria," she added.
"I'm really excited to serve the city of Anna Maria. I'm very humbled that the voters chose a first-time candidate to serve in office. It doesn't happen that often, and I'm looking forward to learning from the existing members on the commission and moving the city forward," Seymour said.
When asked what he will bring to the commission, Seymour said, "New ideas and trying to get the commission to focus on working on problems other than the vacation rentals. I think we need to focus on the needs of all the residents and property owners alike and work on flooding issues, the infrastructure of the city and things of that nature."
In regard to Webb challenging voters, Seymour said, "I wish Chuck Webb the best in his endeavors and hopefully we can put this behind us and make a fresh start once I get sworn into office."
Seymour spent part of Election Day outside the polling location and later headed down to Bortell's to await the results with family and friends.
Webb did not provide comment on the election results other than to say he felt some sense of relief due to the time and effort it requires to serve as a commissioner. Commissioners are paid $400 a month for their services.
Yetter, Seymour and Murphy will be sworn in right before the Wednesday, Nov. 30, commission meeting that will take place at 6 p.m. and six days later than usual due to the Thanksgiving holiday.