Explore the Regina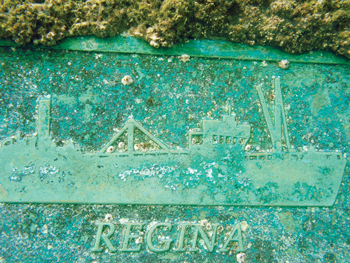 cindy lane | SUN
An underwater bronze plaque marks the remains of the Regina
in Bradenton Beach.
BRADENTON BEACH - While visiting Anna Maria Island, divers and snorkelers may want to visit the wreck of the Regina, a state underwater archaeological preserve, marked by buoys off the 800 block of Bradenton Beach.
According to records at the Anna Maria Island Historical Society, the Regina's story goes like this:
On March 8, 1940, decades before the American embargo against Cuba began, the Cuban tugboat Minian was towing the 300-foot barge Regina from Havana to New Orleans with a boiler on board that was used to turn Cuban sugar cane into molasses at sea on the way to market.
As it passed by Egmont Key that day during a storm, Regina was laden with 350,000 gallons of molasses and was pitching with the waves. Rough seas broke the towline between the vessels. The Minian made for Egmont Key, but the wind and waves drove the Regina south toward Bradenton Beach, where it grounded on a sandbar.
The St. Petersburg Coast Guard station couldn't send a boat because night was falling and the storm was too severe. Bystanders lit fires on the beach to encourage the stranded crew throughout the night.
The next morning, the Coast Guard's seaplane dropped life jackets, most of which were swept away. In desperation, the ship's cook, Severino Canisares, and the boat's mascot, a German shepherd, attempted to swim to shore, but drowned.
Two crewmen made it to shore with the help of a volunteer, Cortez resident Clayton Adams, who swam out to help them with a rope tied to his waist.
The Coast Guard sent a truck from St. Petersburg equipped with a gun to shoot a lifeline to the barge, but it didn't work. Volunteer Furman Smith took a dinghy out to the Regina and got a rope to the crew, who tied it to the barge. The other end was secured on shore.
Coast Guardsman Barney Barnett attached a boatswain's chair to the rope, took the chair out to the barge and helped the remaining five crewmen into the chair one at a time with the assistance of volunteer Jim Parker. Men on the beach pulled the chair down the rope to shore.
In all, seven of the eight crewmen survived.
And one chicken was saved, discovered on the barge's wreckage after the ordeal.
What's left of the Regina, which is in pieces, is marked with a bronze plaque, which you can see on a clear day.