Vol. 17 No. 28 - April 26, 2017


FEATURE
Flavors of NOLA found in Cortez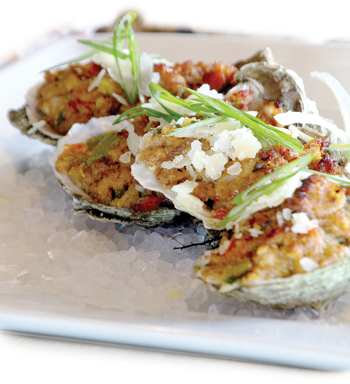 submitted
Try this tasty oyster roast.
My husband and I love visiting New Orleans. Once we land and check-in to the hotel, we hit the streets. Some of our favorite places include Johnny White's on Bourbon, a small corner bar where the locals hang out. Lafitte's, also on Bourbon, was built in the early 1700s and reports to being the oldest bar in the USA. Pat O'Brien's respectfully deserves a visit. Hermes Bar is a casual and welcoming alternative to its more formal sister, Antoine's, especially during their happy hour.
"And great jazz can always be found at Tipitina's. On one visit to The Crescent City, we found a place that served tequila from frozen taps. But we have never been able to find that place again. Go figure.
Don't forget to check out Preservation Hall, Marie Laveau's House of Voodoo, Central Grocery, The Rodrigue Gallery and the Brass Monkey, with the largest selection of limoges boxes I have ever seen. While we seldom wander far from the French Quarter, we always eat at Coop's Place, Cafe du Monde, Mother's, Mr. B's Bistro and Acme Oyster House.
One day we ate at Acme three times. Yes, that seems kinda sad, but the food is consistently good and they have these char-grilled oysters that are simply amazing.
When I'm missing Mardi Gras City, I turn to my Chef at The Seafood Shack. Executive Chef Gerard Jesse, who was hired shortly after the new owner took over in fall of 2014 and over the last two years has breathed delicious life back into the iconic restaurant, has infused some of his Big Easy background into the Gulf Coastal menu. Born in Hamburg, Germany, originally, Chef Jesse studied at the CIA in Hyde Park, N.Y. and continued his studies working in Nawlins at Stella! restaurant and The Ritz-Carlton on Canal.
A few of The Shack's bright and zesty dishes reflecting his time there include the bayou fish sandwich (grilled, blackened or fried Louisiana redfish), Shack shrimp & grits (smoked Gulf shrimp, white cheddar stone ground grits, bacon, andouille sausage, holy trinity and thyme), fried green tomatoes with Cajun remoulade and our chargrilled oysters with garlic butter, blackening spices, Worcestershire and lemon.
To my knowledge, Acme has never published the recipe for those famous oysters. For a taste of Les Bon Temps, Chef Jesse offers up his oyster roast recipe:
Seafood Shack Oyster Roast
Ingredients:
8 fresh shucked oysters on the half shell
1/2 c. andouille sausage, diced
1/2 c. diced bacon
1 Tbs. garlic, minced
2 Tbs. butter
1/2 c. diced onion
1/4 c. celery diced
1/4 c. red and green bell peppers, diced
1 Tbs. creole seasoning
1/2 c. crushed Ritz crackers
1/4 green onion
Tabasco
1/2 c. grated Parmesan cheese
Directions
Render bacon and sausage together; add garlic and brown. Add butter and holy trinity (celery, onion, green pepper) and cook for about 20 minutes. Set mixture aside and allow to cool. Add Ritz crackers, green onions and season to taste with two dashes of tabasco. Mound mixture evenly on top of oysters and then top each with 1 Tbs. of Parmesan cheese. Bake in 350º oven until you have a nice crusty, brown top. Enjoy!
Uncle George's cookbook
People tell me I should write a cookbook.
Just what this world needs, another cookbook.
There is a plethora of cookbooks - cooking almost anything by almost everybody.
The worst cookbook of all time was authored by my uncle George.
One of uncle George's more successful business ventures was a souvenir shop in famous, rockbound Peggy's Cove in Nova Scotia.
Peggy's Cove is a giant thumb of granite thrust out into the North Atlantic Ocean with a picturesque lighthouse at the end. Gigantic, 70-foot waves regularly bash into the massive rocks and sweep away people from New York.
Every May we lose two – regular as clock work.
It is a kind of ancient, pagan, ritual offering to Persephone, the goddess of spring.
Tourists love Peggy's Cove . They go there by the busload. George's brothers drove the buses. Uncle Clary and uncle Ed would bring by bus loads of tourists and unload them in front of George's souvenir shop. We called it uncle George's tourist trap.
George sold "authentic" lobster buoys that he imported from Taiwan.
He sold "locally crafted" knitted goods and souvenir scarves that were purloined from my aunts' closets and clotheslines. He sold old rocks and shells and pieces of wood he got us kids to pick up off the beach.
And he sold gazillions of his cookbooks, "Nova Scotian Cuisine."
Until he wrote that cookbook Nova Scotians didn't even know they had a cuisine.
Uncle George was blessed with neither culinary training nor culinary talent, but it would never occur to him that this might be an obstacle to writing a cookbook.
My dad owned a printing company.
George would write the book.
Dad would print the books.
George would sell them.
Selling the books was easy.
Uncle George was an astute student of human behavior.
He noticed that tourists never really tried to read cookbooks before they bought them. They just picked them up and checked them for heft.
George maintained that tourists bought their cookbooks by the pound.
The contents were irrelevant.
George's basic recipes read something like this:
Get a piece of fish – scallops, oysters, shrimp, lobster
Put it in a pan.
Add butter
Add a little salt.
Cook it.
Add more butter.
The cook book was a great financial success. George sold literally bus loads of them out of the tourist trap and never paid my father a farthing for the printing.
It is doubtful anyone ever actually opened that cookbook – it was finally just a hefty memory of a visit to rocky Peggy's Cove.
George regularly told patrons that the book was real handy to hang onto if you got swept off the rocks.
Uncle George got bored of the souvenir shop and the aunts got wise to him stealing their laundry, so he finally sold the shop to a New Yorker who had survived the rocks.
When the time came to clean out the place, there were cases of cookbooks left over, and uncle George owed uncle Ed a little commission money for bussing in all those tourists, so the cases of cookbooks got loaded onto uncle Ed's tour bus.
There are still cases of uncle George's cookbooks stacked at uncle Ed's fish camp.
Uncle Ed says the cookbooks do make a contribution to the culinary arts. He burns them in his cooking stove.
Uncle George says uncle Ed is an illiterate, damn, book-burning Nazi.