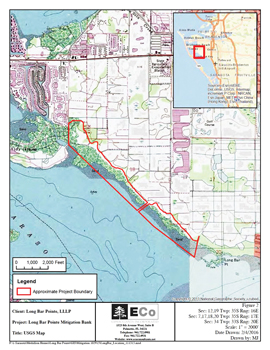 SUBMITTED | ARMY CORPS OF ENGINEERS
The area outlined in red is Aqua by the Bay's
proposed mitigation area off Long Bar Pointe
in Sarasota Bay.
CORTEZ – The last time Cortezians took on Carlos Beruff, they lined up a 90-year-old woman, several seniors in wheelchairs, grandchildren, babes in their mothers' arms and a disabled commercial fisherman along Cortez Road waving signs reading, "We are the little fish."
For months, they filled hearing rooms with Cortez residents packed as tight as mullet in a cooler.
They beat the developer's 2007 bid to buy the Cortez Trailer Park for $10.8 million, demolish it, displace the residents and turn it into a marina.
This time, Cortez-based FISH, the Florida Institute for Saltwater Heritage, has linked arms with Suncoast Waterkeeper and former Manatee County Commissioner Joe McClash to fight Beruff's Aqua by the Bay project, formerly Long Bar Pointe.
The 529-acre residential/commercial project will have 2,384 residential multi-family units and 510 single-family lots, including a five-story building and a 13-story building, according to a county staff report, which states that the buildings are not expected to create any adverse impacts on surrounding developments - Legends Bay to the south, Tidy Island to the north and the planned Lake Flores to the east.
The Manatee County Commission is scheduled to decide on Thursday, May 4, the fate of two miles of pristine, state-protected mangrove fringe on Sarasota Bay, known to Cortezians as the kitchen, where juvenile fish, crabs and other marine life has long been protected by nature. The county Planning Commission recommended approval of the project 3-2 on April 13.
Beruff and partner Larry Lieberman lost their bid in 2013 to build a marina and channel at Long Bar Pointe when a judge ruled against his constitutional challenge to Manatee County's comprehensive plan.
His new plan is to dredge out a 4.6-acre lagoon, or Estuary Enhancement Area, parallel to the shoreline and bordered by a proposed seawall on one side and the existing mangrove fringe on the other, with a break leading from the bay toward the project where the prohibited channel was located.
The construction of the lagoon will more than mitigate negative impacts to the 13 acres of wetlands in the project, and is "designed to create shallow vegetated wetland areas with deeper water refuges which are likely to create additional habitat for fish and wildlife," the report states.
Many Cortezians, including Capt. Kathe Fannon, a former commercial fisherman who leads boat tours of Sarasota Bay, say it will do the opposite.
"People don't come here to see high rises," she said. "They come here to see that eagle's nest (on the Long Bar Pointe property), and the manatees and dolphins in the bay."
The staff report states that the enhancement area ultimately will reduce sediment transfer and damaging scour, or tidal action on mangroves.
"They claim this will keep sediments from mangroves that would degrade them, but our experts say the opposite is true; mangroves need sediments to stabilize themselves, otherwise they get scoured by the tides," said Stuart Smith, of the Manatee-Sarasota Group of the Sierra Club and Suncoast Waterkeeper.
Seawalls have not been in favor since the 1970s in Florida partly because they cause erosion rather than prevent it, and "to bring them back now is ludicrous," he said. "It's a death sentence for the mangroves.
"This is the last intact coastal environment on Sarasota Bay, the best fishery on the bay, the only place you can go on the bay and not see a building," he said. "This design is not appropriate for this place."
"FISH wants this area protected; we here in Cortez need it protected as it plays such an important role in the very livelihood of so many who reside here in the village and make their living from the bay and coastal waters," FISH Vice President and former Manatee County Commissioner Jane von Hahmann wrote FISH members in a call to action. "If you can, please attend the Board of County Commission meeting on May 4th; we need hundreds if not 1,000 citizens to once again show up and make it known our shorelines are of the utmost importance to us. They make Manatee County the incredible place it is."