Little boots take the pitch at The Center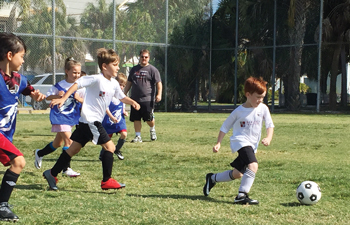 monica simpson | SUN
Ethan Guerrero dribbles the ball downfield with teammate
Cale Rudacile working to move into position.
What does it look like when 50 kids under the age of eight take to the soccer field at the Island's community center? It looks like fun in the sun with friends and family learning the international game known to most around the world as football. Each week as the area's youth tie up their cleats, to some known as boots, players as young as three years old learn the basics each Saturday at The Center.
Under the key instruction of coach Tony Shard, former head coach for the McNeese State University women's soccer team and former operational director of the Disney Soccer Academy, the Island kids have the opportunity to learn basic skills and play the game in instructional games each Saturday.
Sponsored by Bin There Dumped That, the three- to five-year-old players take the fields first. While the tendency is for these youngsters to get distracted and disinterested, the clinic format keeps the little feet moving and learning while having fun.
Blalock Walters provided the sponsorship for the six- to seven-year-old instructional league. With the volunteer parent support of Steve Perry, Scott Rudacille and Dave Larson, 20 elementary school kids learn about the diamond formation used in the five-on-five scrimmage.
Each week, new teams are picked and new skills are learned. In only the second week of the soccer season, spectators can already see the players' abilities increase.
With the newly surfaced baseball diamond, two small fields are in play at the same time. On the original small field, Savanna Coba, Livia Sauls, Victoria Perry, Ethan Guerrero, Cale Rudacille, Keegan Shard and other little soccer players played hard to each goal.
In a game where the score is not recorded for the newpapers, at this age, the players definitely know how many goals have been scored.
Taking corner kick, working on throw-ins and passing down field are just some of the basics that coach Shard reinforces during the hour of fun in the sun. The level of skill varies among players, with talented standouts already showing their natural soccer abilities.
The beauty of The Center youth recreational soccer league is that all levels learn and play together even in the oldest of age groups. The oldest of the little ballers will take these skills learned to the big field in the next season and for years to come.
Sun Scoreboard
Thursday, April 20
Adult Co-Ed Flag Football – Quarter Final Playoff Games
#3 Beach to Bay 30
#5 Mason Martin 25
#2 Tyler's Ice Cream 38
#7 Progressive Cabinetry 19
#4 Moss Builders 36
#6 Smoothie King 19
Friday, April 21
Youth Soccer: 8- to 10-Year-Old League
Slim's Place 2
Truly Nolen 5
Progressive Cabinetry 6
Wash Family Construction 4
Saturday, April 22
Youth Soccer: 11- to 14-Year-Old League
Signarama 6
Salty Printing 7