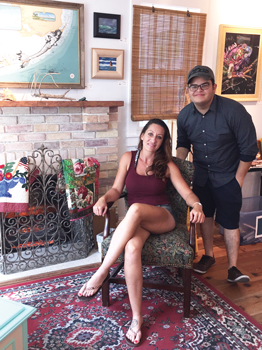 SLOUISE BOLGER | SUN
Owner Kate Brenner and store manager
Josh Aponte invite you to come read a good book.
There are few beach activities that surpass reading a good book in the shade of a striped umbrella with the aqua Gulf water tickling your toes and the soft breeze tickling you nose. It may sound corny, but you know I'm right, and whoever created the Anna Maria Island beaches had a book reader in mind. Now we're lucky enough to have a book store which also has book readers in mind with real books.
Paradise Found on Pine Avenue in Anna Maria is a book store, not an Island shop that happens to have books, but a real book store located in one of the most charming buildings in all of Anna Maria within the Historic Green Village. When's the last time you saw a new book store on the Island or anywhere else? I'm thinking never, at least not in my memory.
Kate Brenner and her mother, Genie Ford, opened Paradise Found on Nov. 6 last year, fulfilling a long time dream they both had. Ford previously owned a book store in northern Virginia, and when she relocated to Florida, where she has deep family roots, she immediately began her search for another location with the small town feel similar to Virginia. Brenner attended college in Florida and returned to Bradenton a little over four years ago. At that time, she opened a rare and exotic plant nursery in Cortez that she still owns selling through word of mouth and online.
Paradise Found carries all genre of books, best sellers, local Florida authors, cookbooks and poetry in addition to a very well stocked magazine section, something else you rarely see outside of drug and grocery stores. Books are priced at the publisher's price; no premium is added. They also have a children's section with mini chairs and a wall mural.
In addition, subtlety scattered throughout the lovely wide open space of this historic home you'll find the works of local artists – watercolors, textiles, oil paintings, sculptures, quilts and, of course, some of Brenner's plant dish gardens, air plants, driftwood art, vertical gardens and more. Helping Ford and Brenner make their dream come true is Josh Aponte their manager.
The shop also has a bargain area, and next season Brenner is considering initiating a buy back policy so vacationers can sell their vacation books back to Paradise Found and not have to carry them home. Also in the future Brenner and Ford are working on a writer's workshop event over a three-day period involving authors, book agents and the community, as well as other special book related events. They already have an author scheduled for February as one of their special event venues. Their mantra is to include and give back to the community, something that is already happening just by virtue of opening a book store.
What do you do when it rains at the beach? Brenner's advice is to come and sit a spell next to the fireplace in one of her comfy chairs and browse the stacks. But when the sun comes out it's time to leave the Kindle at home and get a real book that works on the beach.
In the words of the illustrious Jerry Seinfeld; "A bookstore is one of the only pieces of physical evidence we have that people are still thinking," and we've got a real live one in our backyard.
PARADISE FOUND
505 Pine Avenue
Anna Maria
941-213-9687
www.paradisefoundami.com
Monday through Saturday: 11 a.m. to 5 p.m.
All major credit cards accepted