Vol. 17 No. 30 - May 10, 2017


FEATURE
Oysters and beer – a unique marriage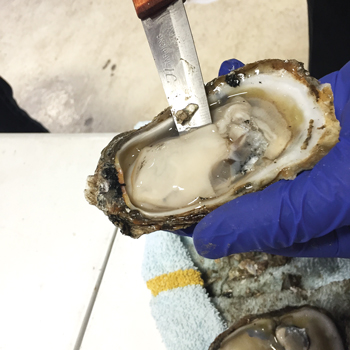 submitted
Oyster shooters offer the perfect end to a beach day.
Summertime is just around the corner, with plenty of sun, surf and seafood in its wake. While we certainly enjoy an abundance of all three here in Florida, Oyster Stouts are of rarer stock in our citrus-drenched state. While a dark, rich stout may not be the first beverage you reach to before the beach, it may be the perfect end-cap to a day spent shuffling through the sand.
Oysters purportedly snuck their slippery selves into the boiling morass of the beer world for the first time somewhere in New Zealand. With a bushel of wild caught, Texas-bred oysters in hand, we've concocted our take on a brew often met by incredulous palates. Inquiring taste buds, however, will enjoy a delicious plunge into a glass bursting with complex flavors.
With pitch-black complexion and a creamy, medium body, the stout's dry, dark malt character is flanked by a slight saltiness, courtesy of the raw oysters and dried seaweed added to the brew during the boil. This brightens the other flavors and evokes a definite briny, oceanic quality in both its aroma and taste, like a salty gust coming off the Gulf.
If you've never experienced this unique marriage of seafood and beer, swing by the Motorworks Brewing taproom on Friday, May 12, and try this specialty brew for yourself. Barring any seafood allergies – the results may just pleasantly surprise you! Join us for this taproom-exclusive release and enjoy a glass before the beach, or sip one afterwards as you kick back and relax out in the Beer Garden after a long, sun-soaked day.
Our award-winning brews are available in cans at retailers throughout the state of Florida, plus cans and growler fills are offered seven days a week at the brewery located at 1014 9th St. W. , Bradenton.
Oyster Shooters
Ingredients:
2 c. V Twin Vienna Lager, chilled
1¾ c. tomato juice, chilled
1 Tbs. horseradish
1 Tbs. Sriracha
1 tsp. Worcestershire
1 Tbs. fresh lime juice
2 Tbs. green onions, minced
1 tsp. kosher salt
2 dozen shucked raw oysters
Directions
• Combine the beer, tomato juice, horseradish, Sriracha, Worcestershire, lime juice, green onions and salt in a mixing bowl and stir well.
• Place raw oyster in a shot glass. Pour ¼ cup of the beer/sauce mixture over the top. Serve cold. The V Twin's malty sweetness nicely balances the spicy sauce mixture.
Mothers and grandmothers
My mom had five children.
I was the eldest.
By the time I was three, I already had a little brother and a little sister and mom was lost in a sea of socks and underwear.
By the time the fifth kid arrived, it was bedlam.
As children we knew we were loved, but for food and brushing teeth and laundry it was pretty much every man for himself.
Mom's big rule was "Never, ever, play in the Railroad Cutting".
The Railroad Cutting was a wonder-filled canyon bracketed with hundred foot cliffs where the trains thundered along the railroad tracks like crazed mechanical monsters.
The Railroad Cutting was the only place that was more dangerous than our house.
The trains were fearsome and amazing. They could crush pennies and squash rats.
The cutting was populated by interesting people you never found in the land above the cutting's cliffs.
There were hobos and rummies and railroad cops.
My favorites were the railroad cops. The railroad cops were charged with running us out of the cutting.
The game of "railroad cops versus kids" was stacked.
If they described it like ring announcers calling corners in a boxing match it would go like this:
"In this corner at 65 pounds we have a wiry little Irish wharf rat who is mostly long legs in sneakers who can run forever without getting winded and can climb trees and scale vertical cliff walls like a spider monkey."
"And in this corner at 265 pounds we have a 60-year-old overweight railroad cop with bad knees and a bad back, carrying heavy guns he's not allowed to use and walkie-talkies and hand-cuffs and a Billy club and wearing remedial footwear."
They never caught us.
It was impossible for them to catch us.
The railroad tracks were an infinite highway.
Once you got to them, you could escape to Tierra del Fuego, and they could not catch you, and they could not find you.
Once you hit the tracks, you were free.
I ran away a lot.
I would bolt for the tracks and then follow them all through town and out by the ocean.
I would then scramble out of the cutting near my grandmother's cove.
My grandmother was called Nana after the Irish fashion.
And the cove was Nana's Cove.
Nana had 10 kids and about 40 grandkids.
Almost all of them lived around the shores of Nana's Cove.
The cove was home plate.
Once you hit the cove you were safe.
The cove was a kind of commune.
All the boats and fishing poles and dogs and lobster traps were owned in common.
The grandchildren were owned in common as well.
They were fed where they landed.
My poor mom never had a chance to learn how to cook, but my grandmother could create miracles from ships' stores of barrel beef and flour and pork scraps.
Nana had grown up as a housemaid and then a cook to an English admiral.
Nana often had a dozen grandchildren around her table.
We feasted on shepherd's pie and Irish stew and homemade jam and biscuits.
As Nana drifted into her 90s, she began to miniaturize. She became tiny.
She moved through her garden like a little bird.
Her doctor wanted to beef her up.
He told her to drink a little wine before dinner.
It would improve her appetite.
Nana set an impeccable table with fine linens and silver and china.
Then just before we sat to dinner Nana would step over to the sink, stoop, open the cupboard door under the sink, reach in next to the plunger and Plumber's Helper, and grab a bottle of port. She called it "the doctors' port."
Nana would pull out the cork, knock back a long swig, wipe her lips with the back of her hand, pop the cork back in the bottle and jam it back under the sink again.
Then – like the perfect little lady that she was – she would sit and say grace.
Mother's Day is the day I remember the love I have for both of my mothers – the port-swilling grandma who made the world's best shepherd's pie and the mom who could barely open a can.