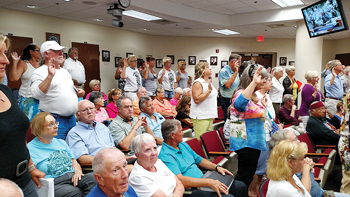 joe hendricks | SUN
More than 80 citizens who signed up to speak were sworn in
at the beginning of last week's meeting.
BRADENTON – Carlos Beruff's Aqua by the Bay development will face additional county scrutiny because he wants to include up to two dozen 12-story condo buildings in the project previously known as Long Bar Pointe.
Beruff's high-rise intentions were disclosed during the six-hour County Commission land use meeting on Thursday, May 4, but some of the estimated 300 attendees already knew about these plans via social networking.
Commission Chair Betsy Benac brought the matter to light when she questioned a county staff report that incorrectly stated the developers were seeking permission to build one 145-foot building and one 75-foot building as part of their plans to develop 2,894 residential units and 78,000 square feet of commercial space.
The developers need County Commission approval to exceed the existing 35-foot height limit.
"I find it hard to believe you could accommodate the density proposed and only have two buildings that exceed 35-feet," Benac said.
"I think it's accurate that we have two building types. I've not read it to be two buildings," Beruff's attorney Ed Vogler said.
Stephanie Moreland, the county's principal planner, acknowledged the mistake.
"I think it was an error on staff's behalf that we picked that up as being two buildings," Moreland said of the report that expressed staff support for the project.
In April, the Planning Commission voted 3-2 to recommend County Commission approval of the developers' requests. County Commissioner Robin DiSabatino asked if planning commissioners were provided the incorrect report. Moreland said they were.
"That makes a whole lot of difference," DiSabatino said.
DiSabatino questioned why she and others were not told about this before their meeting began. Benac said she only learned of it earlier that day.
"When I did my briefing with staff, I left thinking it was only two buildings," Commissioner Charles Smith added.
He then asked how many high-rises were proposed.
"It's not that we're not sure, it's another level of approval and design that hasn't occurred yet," Vogler said.
Vogler claimed those details were not required for a general development plan, but he noted the development plan also includes a chlorinated crystal lagoon and man-made beach. This would be in addition to a proposed estuary enhancement area and concrete retaining wall that would run parallel to the two and half mile Sarasota Bay shoreline and potentially threaten coastal mangroves. Private docks are listed as a possible ancillary use.
Plans clarified
More than 80 people signed up to speak, but only a handful did before the predetermined 7:30 p.m. stopping point.
Former County Commissioner Jane von Hahmann produced conceptual drawings the developers submitted to the Southwest Florida Water Management District (Swiftmud) as part of a separate permitting process. The drawings indicate 24 10-story, 80-unit condo buildings atop two-story parking decks.
Von Hahmann implored the commission to invoke its right to demand more details.
"It seems like you just didn't get enough information," she said. "No developer is guaranteed maximum height or density; that decision is up to you."
Former County Commissioner Joe McClash also addressed the Swiftmud drawings and he encouraged commissioners to deny any elements that don't comply with the comprehensive plan.
Andy Mele produced a poster-sized rendering that illustrated how the tall buildings would look from the bay.
Three Tidy Island residents expressed concerns about the retaining wall funneling storm surge to the west and flooding their community.
Charter captain Kathe Fannon suggested the entire project was better suited for Orlando.
"This is not Aqua by the Bay; this is awkward by the bay," she said.
Assistant County Attorney Sarah Schenk refuted Vogler's claim and told commissioners they had the legal authority to require more details on building heights and the number of buildings. She also said the county would be exposed to a potential legal challenge if the County Commission grants developers a more intense use than what's presented to the Planning Commission.
The commission voted 6-0 in favor of a second Planning Commission review based on more accurate information. Commissioner Carol Whitmore abstained because her son-in-law is on Beruff's legal team.
Commissioner Priscilla Whisenant Trace disclosed she recently had lunch with Beruff, but she said they did not discuss this development.