Special blue film identifies turtle light issues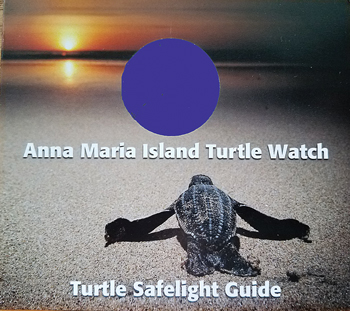 CINDY LANE | SUN
This card shows whether your lights are turtle friendly or not.
There's an easy way to see whether you need better turtle-friendly lights, said Suzi Fox, director of Anna Maria Island Turtle Watch and Shorebird Monitoring.
It's a simple card containing blue film that shows whether lights are in compliance with turtle laws.
The Turtle Safelight cards are free for beachfront property owners and rental management companies who want to take a proactive approach to make sure their properties are in compliance with local turtle lighting laws, which are in effect from May 1 until Oct. 31.
People can stand out on the beach and aim the cards at their property, and if their lighting is out of compliance, they will see it through the blue film on the card as blue, green or purple lights.
Then they can make the necessary adjustments to their lighting to avoid disorientations to nesting and hatching sea turtles and thereby avoid being cited by code enforcement officers for lighting violations under the Sea Turtle Protection Act, according to Gail Garneau, code enforcement officer for the city of Bradenton Beach.
The act states in part that "Artificial lighting from existing development must not directly or indirectly illuminate sea turtle habitat during nesting season."
That includes indoor lights that can be seen from outdoors through open blinds, Fox said.
Lighting should be mounted low, directed downward, shielded and lamped with a Florida Fish and Wildlife Conservation Commission-approved long wavelength light source, according to Turtle Watch.
You can request cards from Turtle Watch at 941-778-5638.