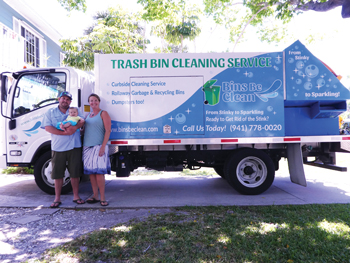 Submitted
From left, Nate Welch, holding Williabel Rose Welch, and
Rather Hosch offer the new service.
My calendar is telling me that June 21 is the first day of summer, but here in Florida summer starts long before June and can last long after Halloween. And those of us who live here during the endless summer know that one of the necessary evils we encounter are cleaning our trash bins during the hot muggy days of a Florida summer.
Last year was a big year for Nate Welch and Rather Hosch. They moved to Anna Maria from Crested Butte, Colo., the Anna Maria Island of Colorado, had a baby and started a new business.
Nate Welch's parents retired to Anna Maria from Illinois, purchased a few investment properties and quickly realized that providing clean trash bins to their renters became a big problem. When Nate Welch and Rather Hosch decided to join his parents in Florida, this problem looked like a unique and necessary business opportunity.
They found a company on the cutting edge of a new and growing industry on the east coast of Florida which built 100 percent contained trucks specifically designed to clean household garbage and recycle bins. They order a truck, obtained a license and insurance and were in business, with Welch handling the truck and Hosch handling the bookkeeping.
Here's how it works; Bins Be Clean follows the garbage truck on regular pickup days, and after the bins are empty, the truck automatically picks up the bin and places it into the hopper which sprays the bins with a high-pressure wash at 180 degrees for 30 seconds. When finished the inside of the bins are dried, sprayed with a neutral fragrance deodorizer and come out looking like new. All the products Bins Be Clean uses are Green-Seal Certified and eco-friendly chemicals. In addition, the resulting grey water is disposed of according to EPA regulations.
Welch recommends a monthly maintenance program after their initial comprehensive cleaning in order to prevent the growth of dangerous bacteria. The average customer pays $8.50 per bin per month, is billed quarterly and there is no contract to sign, so the service can be suspended at any time.
This is an incredible service for rental properties, when renters come in and see clean touchable trash bins, it says a lot about the property and sets a good example. Check out their website for information about the process as well as incentive programs.
Bins Be Clean also cleans large dumpsters for commercial properties and condo complexes. Although the truck cannot pickup the dumpsters, they are still power washed with the same eco-friendly chemicals and the water vacuumed out and contained.
The concept is so simple it makes you wonder why we haven't see this service before. As it turns out, there are nao other businesses like this in Manatee County, and the closest one to Anna Maria is in Tampa.
Welch and Hosch's goal is twofold – expand their business and make people aware of the dangers of improperly cleaned garbage bins, especially in an atmosphere that grows mold and bacteria at an astonishing rate, while using environmentally safe products.
This year will also be a big one for this ambitious young couple as they grow their business and plan their beach wedding in November. As they say at Bins Be Clean – "From stinky to sparkling." It's all up to you.
BINS BE CLEAN
Trash Bin Cleaning Service
941-778-0020
All Major Credit Cards Accepted
www.binsbeclean.com