Vol. 17 No. 32 - May 24, 2017


FEATURE
Low Country Boil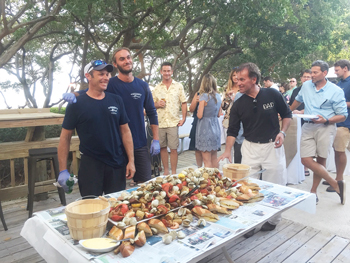 submitted
Blue Marlin owner Adam Ellis and friends prepare a Low Country Boil.
The Low Country Boil originated in Charleston, S.C., probably because of the abundance of seafood. There are many variations of this seafood stew. The simplicity of this version makes it as easy to prepare for two as is does for 80 people.
Only the freshest seafood makes this dish successful because of the small ingredient list. You start by making a stock. Use as discarded shells or bones from cleaning the seafood, such as lobster and shrimp shells and fish bones.
At Blue Marlin Seafood we make a fish fume from snapper bones and equal parts celery, carrot and onion. Sweat the vegetables with salt and pepper, add snapper bones, then cover with water and simmer for at least an hour. This step can be done up to a few days ahead. Strain the liquid, reserve and refrigerate. This is the base of the boil which would be more appropriately called a Low County steam.
To get started, in a large stock pot with a basket strainer fill the bottom 2-3 inches with your seafood stock. Add a nice fist full of Old Bay seasoning and bring to a boil. In the strainer basket start layering your ingredients.
Begin with potatoes, sausage and corn. Cover and let steam until warmed through, about 5-6 minutes. Add clams and cover another 5-6 minutes. Add lobster tails, and cover for an additional 2-3 minutes. Next add shrimp and season the whole pot with more Old Bay. Cover for approximately 4 more minutes.
All seafood should be finished at the same time if you follow this layering process.
While your seafood is steaming, grill some lemon halves and a baguette. The baguette will get slathered with saffron aioli after it comes off of the grill.
Thrown down some butcher or newspaper on your picnic table, and dump your seafood basket in the middle. Season the seafood pile again with a finishing sprinkle of Old Bay and flat leaf parsley. Garnish your bounty with the grilled lemons and sliced baguette. Roll up you sleeves, grab your friends and a cold one and dig in!
Low Country Boil
Stock ingredients:
Snapper bones
Lobster or shrimp shells
Celery, onions, carrots, equal parts roughly chopped
Salt, pepper, thyme
Directions
Sweat the vegetables in salt and pepper. Add fish bones and cover with water. Simmer for at least 1 hour or at most 4 hours. Cool, strain and refrigerate.
Boil ingredients:
Stock you made
Old Bay seasoning
Lemons, cut in half for grilling
Red or fingerling potatoes
Corn on the cob, cut into thirds
Sausage
Clams
Shrimp, peeled and deveined
Lobster tails, cut in half and deveined, leave in shell
Directions
Bring stock to a boil; add generous amount of Old Bay. Add potatoes, corn and sausage; cover 5-6 minutes. Add clams; cover 5-6 minutes. Add lobster tails; cover 3-4 minutes. Lastly, add shrimp and season again; cover 4 minutes.
Make or buy aioli of your choice. We like to bloom saffron and lemon juice for our version.
Wine genius
A great wine value is like a great fishing hole – it ain't worth a damn once the whole world knows about it. If you catch the wine in its infancy, the winemaker will still find six cases for you after he is rich and famous and the wine is impossible to get.
Being able to recognize a great wine is not easy.
It requires a certain wine genius – sometimes.
Thirty years ago, I was the first guy in the state of Florida to buy an unknown wine called Murphy-Goode.
The wine salesman said, "Hey, I have a new wine, and it has your name, Murphy, on the label."
The salesman knew I was Murphy. What he didn't know was that back home in Nova Scotia, the Murphys were kissing cousins with the Goodes and that the Goodes and the Murphys were the rock-throwing scourge of Deadman's Cove.
Growing up in the rugged outports of Nova Scotia, rock-throwing was more than a past-time. It was a pillar of local culture.
We threw rocks all the time. We threw rocks because there really wasn't much else to throw – and there were a great many rocks.
Rock-throwing also had political and religious overtones. It was a major vehicle for conflict resolution linked to the "Irish question."
There was a preponderance of Protestants on the other end of our rocks.
Our foes in the shoreline wars of Deadman's Cove were the Kidds and Fishers from the shallow end of the cove, the Shallow-enders. Ne'er-do-well descendants of pirates and scavengers, the Shallow-enders outnumbered us, and were meaner than snakes, but they were no match for the marksmanship of the Murphy-Goodes.
On my last visit home I could still see the little white scars on their shaved heads.
They also had boney dents in their legs.
They didn't act like they were glad to see me.
The Murphy - Goodes thoroughly dominated rock-throwing in the cove.
We knew the value of slate for long distance.
We appreciated oval, beach-smooth granite stones for their accuracy.
We always kept a supply of gravel for hand to hand combat.
We knew how to use height for advantage and fences for surprise.
Endless practice on seagulls made us exceptional marksmen.
We also had the advantage of spy-in-the-sky intelligence – our secret weapon – good old Uncle George.
Uncle George sat on Aunt Kay's porch perched way up on the cliff overlooking the cove following our battles through grandad's WWI binoculars. He sat in Kay's rocker smoking a corn cob pipe, sipping rum, spitting sunflower seeds, calling flanking manouvers and warning of sneak attacks.
Aunt Kay said that the corn-cob pipe was a Macarthur affectation.
I bought that first case of Murphy-Goode, not because of the excellence of the wine, but because I just had to send half the case home to the Goode brothers as a tribute to the camaraderie of our rock-throwing days.
The Goodes were wine geniuses in their own right. They wrote back that they thoroughly enjoyed the wine "once we figured out how to get the damn corks out."
A couple of years later, Murphy-Goode Fume Blanc was selected one of the Top 50 wines of the world by Wine Spectator, and I was the clever one who had purchased the first case in the state.
At a Bistro reception for Tim Murphy, the wine maker, one of the wine experts from the distributing company praised me for my "wine genius" in recognizing that the Murphy-Goodes were some of the best wine makers in the world.
Damn fine marksmen, too.