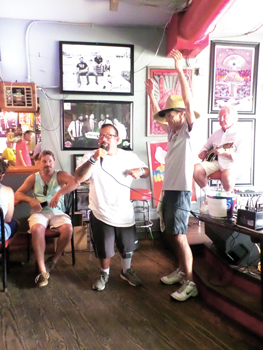 KRISTIN SWAIN | SUN
JD White takes a moment on Sunday to thank everyone
who donated, sponsored and supported his efforts
to raise money to purchase two WalkAide devices,
as friend and benefit volunteer Brad Lisk shouts encouragement.
HOLMES BEACH — A call to action for Holmes Beach resident JD White brought out the best in the Island community.
More than 100 community members came out to D Coy Ducks Bar May 21 to help support White in his quest to purchase two WalkAide devices.
The equipment will help White walk without the aid of the leg braces he's used for most of his life. The WalkAides help him to move easier, correcting dropfoot, a condition which prevents the toes from raising correctly while walking. White suffers from cerebral palsy, which causes the dropfoot. Each WalkAide device costs $5,000.
Now, thanks to the community, White will not only be able to purchase both of the needed devices, but also pay for the therapy needed to help him make the most of his newfound mobility. The fundraiser at D Coy Ducks raised $15,000 for White, surpassing his $10,000 goal.
"It's a wonderful day," Island community member Wendi Webb said, while viewing the number of people bidding on the many raffle and silent auction items. The items were donated by local businesses and residents including artist Joan Voyles, Pineapple Junktion, surfboard master Tommy Daniels, Anna Maria Island Oyster Bar, Steam Designs, Laurel Nevans Computer Services, Island Discount Tackle and Grooms Car Care, among others.
Island resident and former Holmes Beach Commissioner David Zaccagnino helped collect donations at the event, also hosting an online auction for the Tommy Daniels surfboard, which he eventually took with a high bid.
"JD's a great guy," Zaccagnino said. "It's great to see so many people coming out to support him."
Local restaurants, including the Waterfront, Eat Here, The Doctor's Office, Duffy's, Holy Cow Ice Cream, Island Spice, Beach Bistro and Hurricane Hanks, also got in on the fun, donating dining experiences, Island restaurant tours and gift certificates.
Other sponsors of the event and donors include The Sun, Bridge Street Jewelers, Anna Maria Charters, DreamWorks animator Amanda Miller, Anna Maria Olive Oil Outpost, Acqua Aveda Salon and Spa, AMI Media Group, Cupcake Delights, Island Creperie, Two Scoops Ice Cream Parlor, Slim's Place, Tortilla Bay, Island Gourmet, Sea Life Kayak Adventures, The General Store on Pine Avenue, Anna Maria Island Resorts, LLC, The Center of Anna Maria Island and the Anna Maria Island Privateers. Additional contributors were Gnarley Mangrove Designs, Smoothie King, Bridge Street Bazaar, Dina Stewart, The BeachHouse restaurant, Irene's Resort Wear, The Fresh Market, Poppo's Taqueria, Ginny and Jane E's at the Old IGA, The Sandbar restaurant, Salon Salon and Holmes Beach Auto Service.
"I love you all," White said, taking a moment during the festivities to thank everyone who attended, donated and supported him. "I can't thank you all enough."
In addition to Sunday's fundraiser, $4,255 also has been raised from a Go Fund Me online fundraiser began by Buster Powers on White's behalf.
To contribute to the ongoing online fundraiser, visit www.gofundme.com/jds-walk-aides.