It's turtle time again!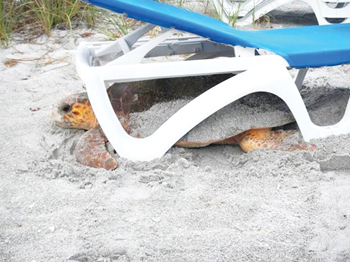 City of Bradenton Beach | Submitted
A sea turtle got stuck under a beach chair last year in Longboat Key.
ANNA MARIA ISLAND – The mother sea turtles have begun to arrive, and they are laying their precious eggs along the Island's coastline.
"We had eight nests, 11 false crawls on the Island and nothing hatched," Suzi Fox said Monday morning when discussing the first activity of the 2017 sea turtle nesting season.
Fox is the longtime director of the Anna Maria Island Turtle Watch and Shorebird Monitoring Program.
"These are nests coming in right now. We've only had them for the last five days, so nothing's hatched,"
Fox said, noting that the gestation period for turtle eggs is 45 to 75 days.
She said a false crawl pertains to tracks made by a turtle that came ashore but chose not to lay any eggs.
"We're right at the same level as we were last year, and the beach is much better. We had a little escarpment – a ledge of sand – going along the whole Island. That's something the county guys will be coming in this week and knocking down," Fox said.
The three-foot escarpments were created by wave action generated by winds blowing in from the Gulf of Mexico, and they make it more difficult for the turtles to get upland to lay their eggs.
Chair concerns
Turtle season began on May 1 and continues through Oct. 31. During this period, beachfront property owners are to use turtle friendly lighting and bring in all beach chairs, tents, umbrellas and other items in after sundown.
City ordinances in all three Island cities state these items must be removed by 10 p.m., and Fox was concerned about the number of chairs left on the beach last weekend in Holmes Beach and Bradenton Beach.
"I did an inspection with the Bradenton Beach Code Enforcement Officer (Gail Garneau) Friday night, and we found a lot of the large resorts had their chairs left out. When Gail talked to me this morning, she said she sent them all e-mails and one of them wrote back and said isn't the law 11 o' clock? No. Last year it was 10 o' clock and the last 10 years before that it was 10 o' clock. We were out there at 10:30," Fox said.
"Everybody's scrambling to get into the groove for this year, and it's the larger places that are lagging. Big resorts have chair-pullers, and they need to get their staff in order. Some of them are only pulling them up as high as the city benches. All of this is still sea turtle nesting habitat, and this is an accident waiting to happen. If they would just stack them, they would be OK," she added.
In her e-mail to the resort owners and managers, Garneau asked them to post a notice at the point where their guests enter the beach as a reminder for them to bring the chairs back from the beach and have them stacked properly.
Lights low
When asked about compliance with coastal turtle lighting restrictions, Fox said, "Lighting is pretty good. We we're nicely shocked at how good that was. That's a relief to see that a lot of people have already put on their sea turtle-friendly lights."
Fox said the arrival of turtle season does not mean no lights are allowed at beachfront properties.
"There are plenty of fixtures and bulbs that are turtle friendly, and no one has to turn out their lights," she said.
If anyone has concerns or questions about turtle nesting visit www.islandturtlewatch.com or call Fox at 941-778-5638.
If you see someone disturbing a sea turtle nest or encounter a sick, injured or dead sea turtle, call the Florida Fish and Wildlife Conservation Commission at 1-888-404-3922 anytime night or day.