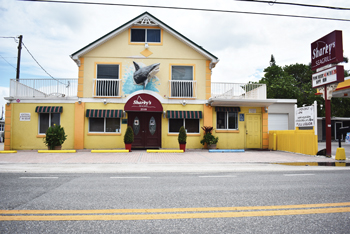 joe hendricks | SUN
Sharky's Steak & Seagrill changed hands last fall
and is now owned by a group of friends from Italy.
BRADENTON BEACH – The five friends from Rome, Italy, who make up the new ownership group at Sharky's Steak & Seagrill, are settling nicely into their new roles as Anna Maria Island restauranteurs.
Last October, Cristina Delle Macchie, Mario Procopio, Silvia Sanges, Emilio Vardaro and Nadia Rossi bought the 80-seat restaurant space at 2519 Gulf Dr. N., and they now share the ownership and operational responsibilities.
Due to immigration laws, the Italian business partners take turns spending three months at a time on the Island. Delle Macchie and Procopio are currently in town, and they sat down last week to discuss their new American venture.
When in Rome, Delle Macchie works as a tour guide. Procopio, a former Italian newspaper man, works for Sky TV. Delle Macchie and Procopio are new to the restaurant business, but the other partners have restaurant experience.
Delle Macchie said they plan to maintain much of what worked well for the past two decades under previous ownership, including the attractive, dark wood furnishings that date back to the building's origins as a German restaurant.
General manager and longtime bartender Tom Gray and longtime waitress Tammy Welch provide operational continuity, and new chef Carlos Cruz is making subtle changes to an American-style menu that features prime rib, fresh fish and seafood dishes and is now expanding to include more fresh pasta dishes that reflect the new owners' Italian heritage.
On the menu
The Shark on the Barbie is served with honey Q-sauce. Purchased locally, the Key West grouper is crusted and served with tropical rum salsa. The crab stuffed tilapia is served with lemon buerre blanc, and the back-fin crab cakes are topped with Dijon red pepper aioli. Market priced seafood offerings include the popular Sea Grill combo, the fish trio, lobster tails and the catch of the day.
"Slow roasted to perfection," Sharky's signature roast prime rib sells is offered in regular and king cut, and also during the prime rib special Monday through Thursday. The menu also includes a filet mignon topped with Bordelaise sauce and chicken Marsala.
Pasta plates include mussels fra diavolo, linguine clams, lobster linguine and tortellini a la vodka, with dinner specials further expanding the menu offerings.
The appetizer menu features Shark Bites served with remoulade and sweet chili, lobster spring rolls served with ginger Q-sauce and Escargot Sarabay.
Open 4 to 10 p.m. seven days a week, Sharky's has a full liquor bar with happy hour specials from 4 to 6 p.m. and live entertainment Tuesdays and Thursdays.
For more information, visit Sharky's on Facebook or call 941-779-9151.
Sharky's Steak & Seagrill
2519 Gulf Dr. N., Bradenton Beach
941-779-9151
Monday - Sunday 4 p.m. – 10 p.m.