Vol. 17 No. 43 - August 9, 2017
FEATURE
Breakfast burrito offers variety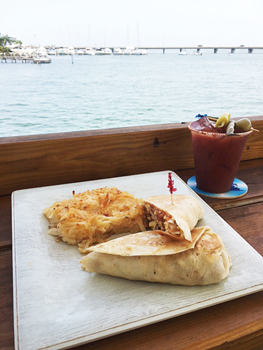 submitted
Mix it up with breakfast burritos that can contain
a variety of ingredients.
Growing up in the Horne household meant family breakfast at the table seven mornings a week. Dad cooked breakfast for us on week days while mom got ready for work and brother Lynn and I ready for school. Saturday and Sundays mom cooked breakfast, and what a welcome change from dad's two eggs over easy, grits, bacon and scraped off burnt toast Dad never used a toaster. I don't think we had one 'til I went to college. He cooked like his grandmother did – hearty breakfast – bread in the oven with the broiler on until he smelled it burning and pulled it out and scraped (most) of the carcinogens off and put it on top of our eggs. I still laugh when I burn toast on the Pier and think, all I have to do is scrape it off a little. English Mike would eat it that way!
Saturday and Sundays were pancakes or French toast or some other delicious breakfast casserole mom made and served at 8 a. m., two hours later than dad's weekday meals – maybe that helped. We were taught the importance of a hearty, family meal to start the day. Maybe that's partly where the idea for our summer reading program started.
This summer at our Ellenton Oyster Bar, we brought 76 rising second- and third-graders from four area elementary schools for a Dive Into Reading program. We connected 58 volunteer reader/mentors with the students for the month of June. They arrived and met their mentors and sat and had a hot breakfast. We taught them when they meet new people to introduce themselves with eye contact and a firm handshake. We served breakfast the first week, breakfast buffets the next two weeks and then they ordered from their own breakfast menu on their last visit from servers who served them at their tables.
After breakfast, there was group reading, then everyone broke into their individual mentoring and reading sessions. This was their favorite part of the program for sure. It was so awesome to see the bonds formed between the students and the readers. I have heard some are going to continue their reading/mentoring this month when school starts back up Aug. 10. That's awesome!
The Patterson Foundation and the Suncoast Campaign for Grade Level Reading teamed up as well and rewarded all summer readers with colored bracelets to each level of books read. Our kids read over 1,800 books in June alone. We are so proud of them all. They all left the program with school supplies, backpacks, books, T-shirts and so many bracelets they had trouble holding their right arms up and most importantly, a new buddy.
So what was the most popular breakfast menu item? Breakfast burrito, of course – scrambled eggs with bacon, salsa and cheese in a tortilla shell cooked on a flat top 'til a crispy brown shell. We serve them on the pier every day – well, some days there's sausage, some days ham and potatoes.
Breakfast burrito
Serves 2
Ingredients
5 eggs
8 slices of bacon (Who doesn't love bacon?)
4 Tbs. salsa
3 ounces shredded cheddar
2 12-inch tortilla shells
Directions
Fry bacon and put drippings in coffee cup to use for flavoring on your next meal. Crumble crispy bacon and set aside.
Scramble eggs and add bacon just before eggs are completely solid. Don't cook too dry as they will cook more in tortilla.
Lightly warm tortilla shells on flat top/griddle or skillet with touch of butter. Remove tacos and scoop eggs onto soft taco. Spread cheese over eggs then spoon salsa over all.
Roll tortilla up folding edges over as rolling. Try to roll to approximately a 3-inch roll.
Place on flat top and brown. If you have a bacon weight, top both to flatten a bit. When brown, flip and cook other side uncovered.
Remove when brown, cut diagonally and serve with sour cream, guacamole and fresh fruit or hash browns.