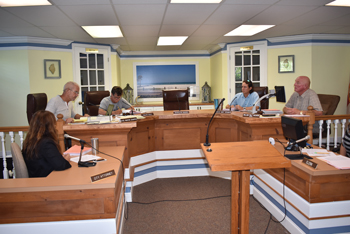 joe hendricks | SUN
From left, Commissioners John Chappie, Ralph Cole and
Jake Spooner voted in support of the proposed legal action,
and Mayor Bill Shearon opposed it during Monday's meeting.
BRADENTON BEACH – Sarasota attorney Robert Watrous and legal consultant and Sunshine Law expert Michael Barfield have taken the initial steps in filing a Sunshine violation lawsuit against planning board member John Metz and former planning board members Reed Mapes, Patty Shay and Bill Vincent.
Barfield confirmed Monday that the intent was to name the four individuals as defendants in a lawsuit to be filed later that afternoon or Tuesday morning.
Former Mayor Jack Clarke and the city of Bradenton Beach have joined in legal action against the planning board members and will be co-represented by Watrous and his legal team.
During Monday's commission meeting, which was a continuation of the Thursday, Aug. 3, meeting, the commission voted 3-1 in favor of Mayor Bill Shearon executing the contract with Watrous, not to exceed $5,000. Shearon opposed the action and Commissioner Marilyn Maro had left the meeting by that time.
During the preliminary discussion Thursday night, the commission voted 5-0 in favor of joining in the legal action to determine if Sunshine violations occurred.
City Attorney Ricinda Perry had been informed by Barfield that legal action was forthcoming, but at the time it was not known that Clarke was also involved.
"There's a cloud there that has to be addressed by somebody who can look at everything presented to them and make a ruling," Chappie said Monday.
When Shearon complained about the hourly rates charged by Watrous' team, Chappie said, "And what price do we put on preserving and protecting the integrity of our government?"
Shearon said the legal action would leave a cloud over the city for months to come. Perry said Barfield believed the matter could be resolved sooner than that.
Alleged violations
The lawsuit pertains to a parking garage discussion at the July 25 Concerned Neighbors of Bradenton Beach (CNOBB) steering committee meeting. The meeting took place at the Annie Silver Community Center, which is not city property; and the meeting was not officially noticed by the city clerk's office.
During that meeting, four planning board members who also served on the steering committee expressed their desire to prohibit the construction of a parking garage anywhere in the city. Sunshine law prohibits elected officials and appointed board members from discussing matters that could foreseeably come before them, except for in a properly noticed city meeting.
Perry said the Watrous would seek a non-criminal declaratory judgement from a judge who will be asked to determine whether Sunshine violations occurred. The lawsuit will also seek an injunctive ruling that addresses remedies if any violations occurred.
Emergency action
Thursday night's discussion took place at Chappie's request, in response to an e-mail Perry sent the commission on July 29.
"I can't stress enough how important it is and how damaging it can be," Chappie said, regarding Sunshine Law compliance discussion.
He also expressed disappointment with Shearon's decision to not add the discussion to the agenda in advance, as requested by Perry.
Shearon cited concerns about an already lengthy agenda and said he took offense to Chappie's comment.
Perry said the city of Sarasota recently spent close to $400,000 defending a Sunshine lawsuit.
"Mr. Barfield contacted me. He advised me that he was aware of the activities of the CNOBB group and he had concerns with the actions. He was letting me know that his group was looking at investigating this," she said.
"I think that's a safe, proactive course of action for the city," Perry said regarding the city joining in the legal action rather than risk being named as a defendant for failing to respond to Sunshine compliance concerns.
"I think we need to do whatever we can to protect the city," Commissioner Ralph Cole said.
Resignations tendered
Vincent resigned during Thursday's meeting. He said that would help prevent future Sunshine Law conflicts. He also said city board members would no longer be allowed to serve on CNOBB's steering committee.
"I've been naïve and perhaps misguided in thinking that grown adults, knowing about the Sunshine Law, could voluntarily and effectively stay away from it," he said.
Mapes and Shay resigned the following day. Metz has given no indication that he intends to resign.