Post-storm turtle survey hopeful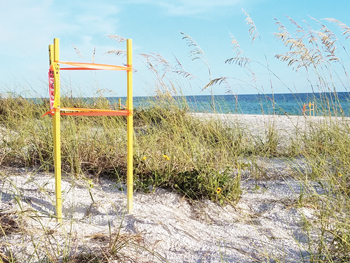 Sea turtles are nesting in record numbers this year. hose that lay their
nests high in the dunes, like this one, increase nest safety during storms.
Now that the winds of Tropical Storm Emily are gone, Anna Maria Island Turtle Watch and Shorebird Monitoring has a better idea of the damage to sea turtle nests.
Some of the record high nests laid so far this year – nearly 500 – had already hatched before the storm, including some that hatched the night before the storm, Director Suzi Fox said.
The stakes to around 28 nests were lost, mostly near Coquina Beach, she said, but that does not mean the turtle eggs inside were under water long enough to suffocate them.
Significantly, "People found no rolling eggs," she said, adding that this information indicates that the eggs are still in the nests unmarked.
"We may never be able to replace the stake markers, as it could be harmful to the hatchlings if we are off by a few inches. So we will let them come out on their own," she said.
August is the worst month for turtle disorientations, when hatchlings head away from the water because they are confused by an artificial light source.
"Now more than ever we need people to keep house lights lamped with turtle-friendly bulbs, preferably amber LEDs," Fox said. "Illegal structure lights kill more turtles that anything on this Island, even more than storms."
Disorientations are high in Holmes Beach, Fox said, while Bradenton Beach is doing better, having worked with Turtle Watch to do light inspections weekly.
Turtle Watch has turtle-friendly bulbs available for a donation. Call 941-778-5638.
Turtle Talks begin
Anna Maria Island Turtle Watch and Shorebird Monitoring volunteers will present a 30-minute Turtle Talk program at 10 a.m. on Tuesday, June 20; Monday July 3; Tuesday, July 11; Tuesday, July 18; and Tuesday, July 25 at CrossPointe Fellowship Church, 8605 Gulf Drive in Holmes Beach.
Volunteers will take you on a virtual tour of Anna Maria Island's nesting beaches, answer questions and announce the time and location of upcoming nest excavations, which are done three days after hatchlings leave the nests.
Participants can pick up free activity books, handouts and temporary turtle tattoos. T-shirts, stickers, transfers and embroidered ball caps with Turtle Watch's Turtle Life logo will be available for a donation.
For more information, visit www.islandturtlewatch.com.